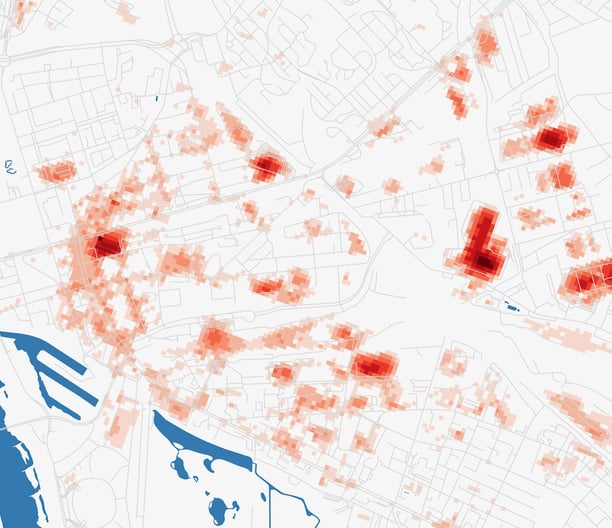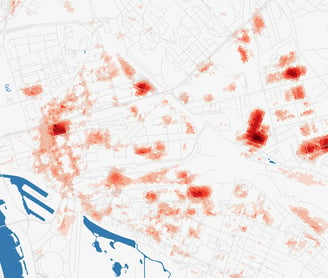 Optymalizacja ratownictwa medycznego
Środowisko zurbanizowane jest niebezpieczne dla zdrowia mieszkańców. Badania wskazują, że ekspozycja na zwiększone poziomy zanieczyszczeń powietrza i wysoką temperaturę zwiększa ryzyko zgonu, w szczególności z powodu chorób układu krążenia i układu oddechowego.
Wykorzystanie dokładnej informacji przestrzennej oraz algorytmów uczenia maszynowego bazując na danych obserwacji Ziemi pozwala na dokładną analizę zagrożeń i ryzyka związanego z chorobami układu krążenia i układu oddechowego.
Dzięki temu jesteśmy w stanie zaplanować rozmieszczenie zasobów medycznych w wybranej lokalizacji, w tym pomoc ratownictwa medycznego oraz defibrylatory AED.
Korzyści z zastosowania analityki zagrożeń
Poprawa bezpieczeństwa w miastach poprzez skrócenie czasu reakcji w sytuacji zagrożenia

Lepsze wykorzystanie cennych zasobów

Możliwość dobrania odpowiednich rozwiązań do zmniejszenia zagrożenia
Podstawy naukowe
"PM2.5, PM10, and NO2 may play important roles in pediatric asthma events in Kaohsiung, Taiwan".[1] "

Exposure to heat, air pollution, and pollen are associated with health outcomes, including cardiovascular and respiratory disease."[2]

"The usual air pollution levels in Madrid were associated with an increase in asthma emergency room admissions"[3]

"The current results suggest that traffic-related air pollution is associated with increased risk of adult asthma hospitalization."[4]

"Multi pollutant models confirmed the role of CO on all respiratory admissions, including asthma and COPD, and that of NO2 on acute respiratory infections. Among children, O3 remained a strong indicator of acute respiratory infections." [5]
Źródła
[1]Cheng, C.-Y.; Tseng, Y.-L.; Huang, K.-C.; Chiu, I.-M.; Pan, H.-Y.; Cheng, F.-J. Association between Ambient Air Pollution and Emergency Room Visits for Pediatric Respiratory Diseases: The Impact of COVID-19 Pandemic. Toxics 2022, 10, 247.https://doi.org/10.3390/toxics10050247

[2]Anenberg, S.C., Haines, S., Wang, E. et al. Synergistic health effects of air pollution, temperature, and pollen exposure: a systematic review of epidemiological evidence. Environ Health 19, 130 (2020). https://doi.org/10.1186/s12940-020-00681-z

[3] Short-term effects of air pollution on daily asthma emergency room admissions I. Galán, A. Tobías, J.R. Banegas, E. Aránguez European Respiratory Journal Nov 2003, 22 (5) 802-808; DOI: 10.1183/09031936.03.00013003 https://erj.ersjournals.com/content/22/5/802.short

[4] Krmpotic D, Luzar-Stiffler V, Rakusic N, Stipic Markovic A, Hrga I, Pavlovic M: Effects of Traffic Air Pollution and Hornbeam Pollen on Adult Asthma Hospitalizations in Zagreb. Int Arch Allergy Immunol 2011;156:62-68. doi: 10.1159/000322177

[5] Fusco D, Forastiere F, Michelozzi P, Spadea T, Ostro B, Arcà M, Perucci CA. Air pollution and hospital admissions for respiratory conditions in Rome, Italy. Eur Respir J. 2001 Jun;17(6):1143-50. doi: 10.1183/09031936.01.00005501. PMID: 11491157
Co oferujemy?
Analizy zagrożeń zdrowotnych w obszarach zurbanizowanych

Bazujące na danych wytyczne rozmieszczenia zasobów ratowniczych

Prognozy zagrożeń zdrowotnych