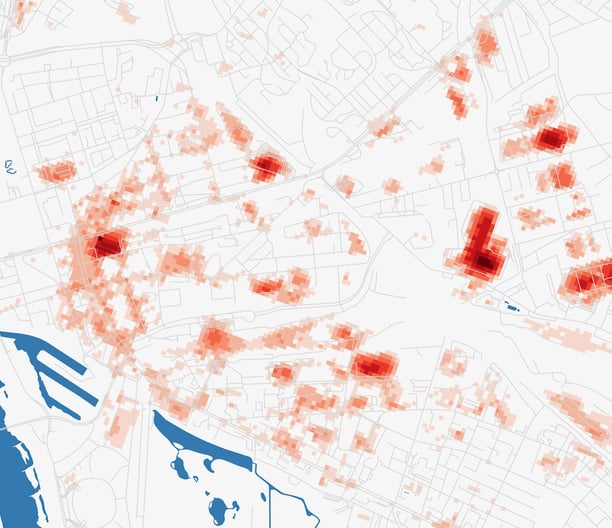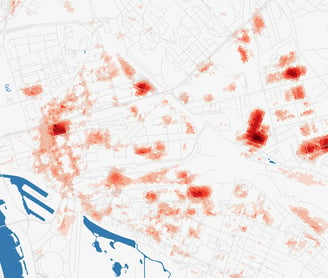 Optimising Medical Rescue Services
A dedicated analysis of health threats based on machine learning
The urban environment is dangerous to the health of the inhabitants. Research indicates that exposure to increased air pollution levels and high temperatures increases the risk of death, particularly cardiovascular and respiratory diseases.
The accurate spatial information and machine learning algorithms based on Earth observation data through analysis of threats and risks associated with cardiovascular and respiratory diseases we can plan the deployment of medical resources in the selected location, including emergency medical assistance and AED defibrillators.
Benefits:
Improvement of safety in cities by shortening the response time in an emergency

Better use of resources
Scientific basis
"PM2.5, PM10, and NO2 may play important roles in pediatric asthma events in Kaohsiung, Taiwan".[1] "

Exposure to heat, air pollution, and pollen are associated with health outcomes, including cardiovascular and respiratory disease."[2]

"The usual air pollution levels in Madrid were associated with an increase in asthma emergency room admissions"[3]

"The current results suggest that traffic-related air pollution is associated with increased risk of adult asthma hospitalization."[4]

"Multi pollutant models confirmed the role of CO on all respiratory admissions, including asthma and COPD, and that of NO2 on acute respiratory infections. Among children, O3 remained a strong indicator of acute respiratory infections." [5]
Sources
[1]Cheng, C.-Y.; Tseng, Y.-L.; Huang, K.-C.; Chiu, I.-M.; Pan, H.-Y.; Cheng, F.-J. Association between Ambient Air Pollution and Emergency Room Visits for Pediatric Respiratory Diseases: The Impact of COVID-19 Pandemic. Toxics 2022, 10, 247.https://doi.org/10.3390/toxics10050247

[2]Anenberg, S.C., Haines, S., Wang, E. et al. Synergistic health effects of air pollution, temperature, and pollen exposure: a systematic review of epidemiological evidence. Environ Health 19, 130 (2020). https://doi.org/10.1186/s12940-020-00681-z

[3] Short-term effects of air pollution on daily asthma emergency room admissions I. Galán, A. Tobías, J.R. Banegas, E. Aránguez European Respiratory Journal Nov 2003, 22 (5) 802-808; DOI: 10.1183/09031936.03.00013003 https://erj.ersjournals.com/content/22/5/802.short

[4] Krmpotic D, Luzar-Stiffler V, Rakusic N, Stipic Markovic A, Hrga I, Pavlovic M: Effects of Traffic Air Pollution and Hornbeam Pollen on Adult Asthma Hospitalizations in Zagreb. Int Arch Allergy Immunol 2011;156:62-68. doi: 10.1159/000322177

[5] Fusco D, Forastiere F, Michelozzi P, Spadea T, Ostro B, Arcà M, Perucci CA. Air pollution and hospital admissions for respiratory conditions in Rome, Italy. Eur Respir J. 2001 Jun;17(6):1143-50. doi: 10.1183/09031936.01.00005501. PMID: 11491157.
What do we offer?
Analyses of health threats in urbanised areas

Data-driven insights for deploying emergency services

Health risk forecasts