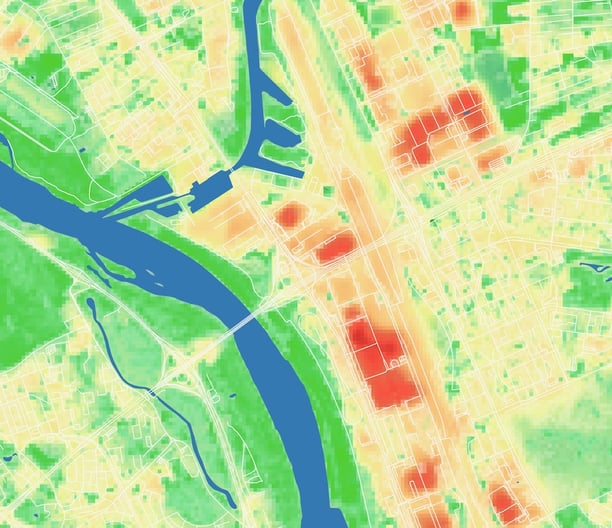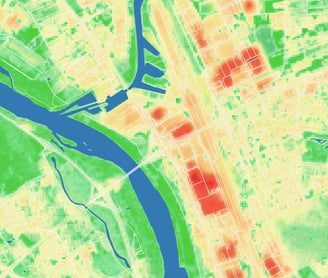 Guidelines for sustainable urban development
Setting Priorities for sustainable urban development based on satellite data analysis
With the growth of urban populations and the increasing impact of climate change, cities face significant challenges related to the safety and health of their inhabitants and ecosystems.
Our analysis, based on Earth Observation data and AI algorithms, identifies priority areas for action in sustainable urban development to mitigate the effects of climate change in urban areas. This includes recommendations for measures to mitigate the urban microclimate, in line with the concept of a climate-resilient city.
Benefits
Reducing pollution (air, water, soil, noise) in cities

Improvement in the quality of urban spaces

Reduction of health risks for city users

Increase in biodiversity.

Urban stormwater management
Scientific basis and sources
T. Oke ( 1973) City Size and the Urban Heat Island

C.S Holing (1973) Resilience and Stability of Ecological Systems

H. Landsberg (1981) The urban Climate

J. A. Sobrino, N. Raissouni (2010) Toward remote sensing methods for land cover dynamic monitoring: Application to Morocco

T. Oke (2017) Urban Climates

D. Zhou, J. Xiao, S. Bonafoni, C. Berger, K. Deilami, Y. Zhou, S. Frolking, R. Yao, Z. Qiao, J. A. Sobrino (2018) Satellite Remote Sensing of Surface Urban HeatIslands: Progress, Challenges, and Perspectives

Anenberg, S.C., Haines, S., Wang, E. et al. (2020)Synergistic health effects of air pollution, temperature, and pollen exposure: a systematic review of epidemiological evidence. Environ Health 19, 130 https://doi.org/10.1186/s12940-020-00681-z
"Exposure to heat, air pollution, and pollen are associated with health outcomes, including cardiovascular and respiratory disease."
What do we offer?
Analysis of the quality and accessibility of urban green spaces

Data-driven insights about the most problematic urban morphology

Analyses of green investments and their impact on the urban microclimate

Monitoring of green urban infrastructure