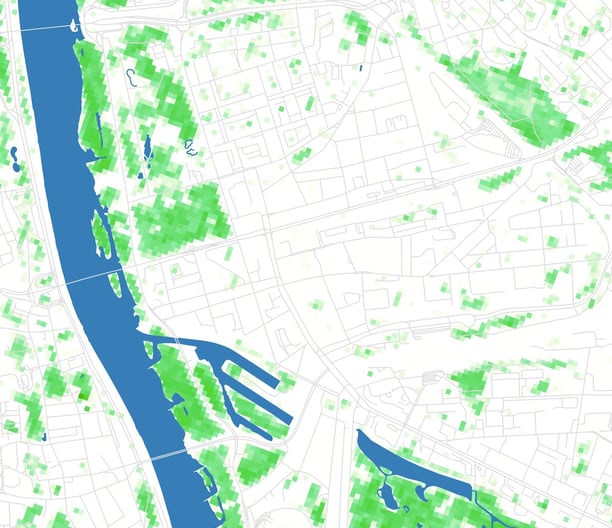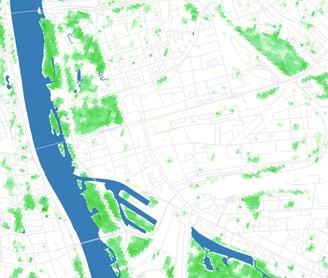 Need for greenery analysis
Using green infrastructure in Creating a city resilient to climate change
Preventing extreme weather events, such as stormwater or long periods of drought, is an increasingly important element of shaping the urban microclimate.
Cities are 60 – 90% imperviousness
Our studies based on the analysis of satellite data and artificial intelligence algorithms will allow for the precise indication of places where urban greenery will bring the most benefits, pointing need for the introduction or densification of green urban infrastructure and carefully planning the strategy of sustainable growth in the city and relieve grey infrastructure, allowing for more efficient functioning during intense precipitation or heat waves combined with long-term droughts
Benefits
Reduction of pollution (air, water, soil, noise) in cities

Improving the quality of urban spaces

Reduction effects of the Urban Heat Island phenomenon (UHI)

Increase in biodiversity
Scientific basis and sources
T. Oke ( 1973) City Size and the Urban Heat Island

C.S Holing (1973) Resilience and Stability of Ecological Systems

H. Landsberg (1981) The urban Climate

J. A. Sobrino, N. Raissouni (2010) Toward remote sensing methods for land cover dynamic monitoring: Application to Morocco

T. Oke (2017) Urban Climates

D. Zhou, J. Xiao, S. Bonafoni, C. Berger, K. Deilami, Y. Zhou, S. Frolking, R. Yao, Z. Qiao, J. A. Sobrino (2018) Satellite Remote Sensing of Surface Urban HeatIslands: Progress, Challenges, and Perspectives

Anenberg, S.C., Haines, S., Wang, E. et al. (2020)Synergistic health effects of air pollution, temperature, and pollen exposure: a systematic review of epidemiological evidence. Environ Health 19, 130 https://doi.org/10.1186/s12940-020-00681-z
"Exposure to heat, air pollution, and pollen are associated with health outcomes, including cardiovascular and respiratory disease."
What do we offer?
Analysis of the quality and accessibility of urban green spaces

Data-driven insights about the most problematic urban morphology

Analyses of green investments and their impact on the urban microclimate

Monitoring of green urban infrastructure